Spongebob Squarepants: Battle for the Bikini Bottom
Developer(s)
Heavy Iron Studios
Publisher(s)
THQ
PlayStation Platform(s)
PlayStation 2
Release date(s)
October 21, 2003 (NA)
January 16, 2004 (AUS)
March 3, 2004 (EU)
Genre
Platform
Rating(s)
E (NA)
3+ (EU)
Mode(s)
Single Player
Spongebob Squarepants: Battle for Bikini Bottom
is a Spongebob game developed for the PS2. It is the sixth video game in the Spongebob Squarepants series.
Spoiler warning!
This article contains plot details.
Spongebob and Patrick are playing with horses and robots and wish that robots were real, but at the Chum Bucket, Plankton is building his prototype minions to help him succeed with his plan of world domination. The robots are successfully developed, but Plankton makes a mistake and forgets to flip the obey switch to "on". The robots throw Plankton out of the Chum Bucket and are off the destroy Bikini Bottom without Plankton's commands. Patrick asks his toy "magic wishing well" and tries to make their wish come true.
The next morning, Spongebob wakes up to find a very sad Plankton, who tries to communicate with Spongebob. Telling him a lie, he says that the robots randomly came in and threw him out of the Chum Bucket for no reason. Spongebob then looks for the golden spatulas and faces several bosses; a robot Sandy, a robot Patrick, and a robot Spongebob. Spongebob, Patrick, and Sandy defeat these bosses and save Bikini Bottom from harm.
Spongebob Squarepants: Battle for Bikini Bottom is a linear 3D platformer, where the player navigates through open worlds. Spongebob can shoot bubbles and do karate chops, Patrick can pick up and throw stuff and can do a ground pound, and Sandy can glide with her rope onto Texas logos. Each level has to do with the show and objectives much like its featured episode (ex: in the Kelp Forest level, the player has to find the missing campers, much like the Spongebob episode "The Jelly Spotters"). Mr. Krabs sells stuff to Spongebob, which can be bought by using flowers. Most golden spatulas are found by regular platforming, but some have a few requirements.
Reception
Edit
Spongebob Squarepants: Battle for Bikini Bottom got very positive reviews. The game has won numerous awards, including the Kid's Choice Award for Best Video Game of the Year.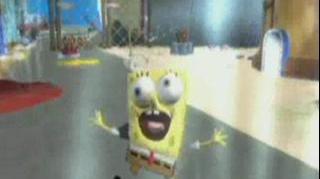 Ad blocker interference detected!
Wikia is a free-to-use site that makes money from advertising. We have a modified experience for viewers using ad blockers

Wikia is not accessible if you've made further modifications. Remove the custom ad blocker rule(s) and the page will load as expected.